At Kingsbridge Physiotherapy Clinic North West, our experienced HPC registered and CSP chartered physiotherapists can help people affected by illness, injury or disability through the use of exercise techniques, manual therapy, education and advice.
Physiotherapy requires trained and experienced use of various techniques to promote healing, decrease pain and prevent re-injury. Before recommending the right course of treatment, our physiotherapists will carry out a complete and comprehensive assessment. They will then discuss their findings with you, so you know what therapy is being recommended and why.
We share our knowledge and services across the entire hospital and will assess your own specific case carefully to determine the best course of treatment for you.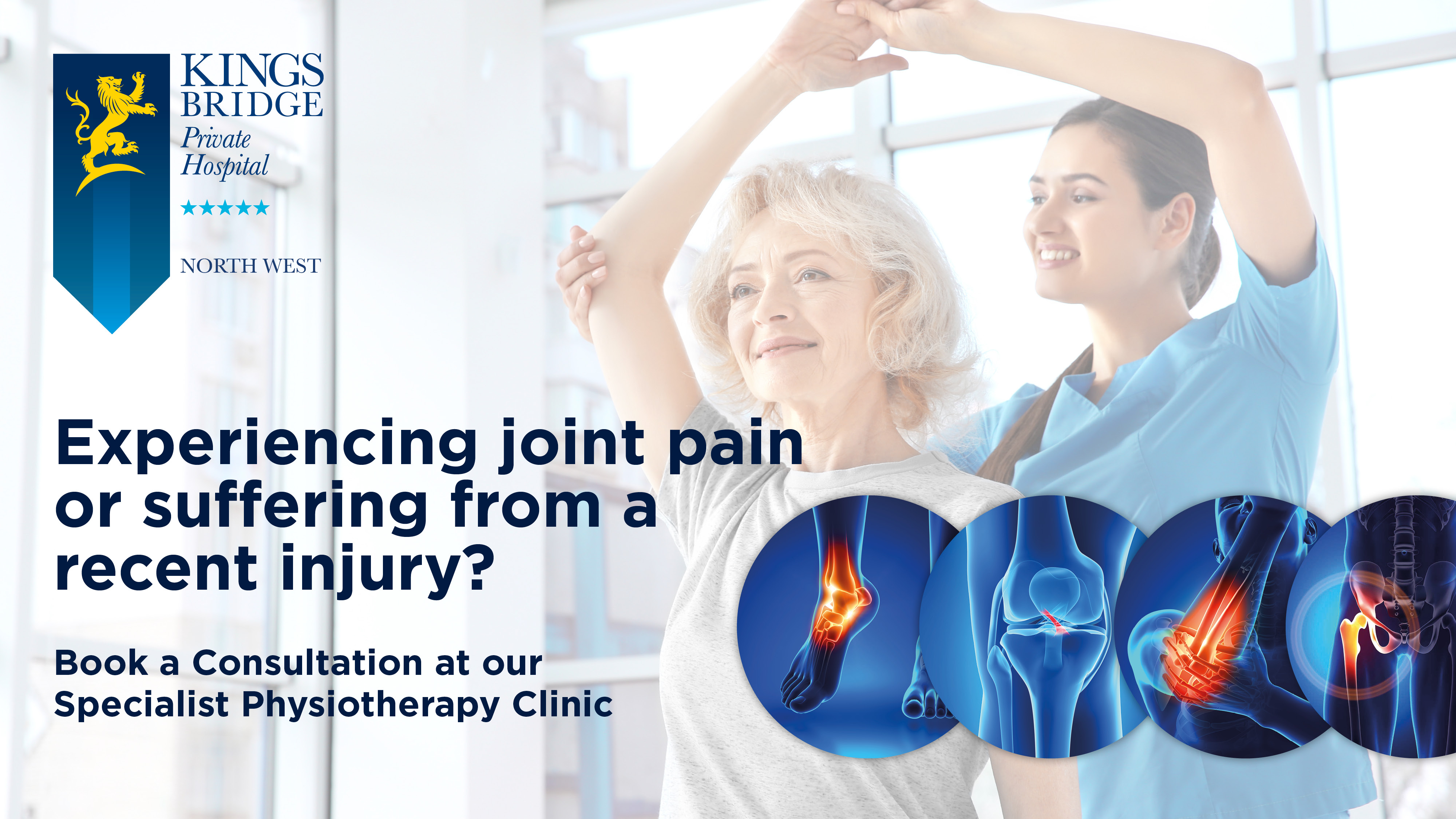 Our physiotherapists work closely with our Orthopaedic Surgeons, Podiatrists and Consultant's from other specialities. The Kingsbridge North West Hospital is a cutting-edge multi-disciplinary hospital offering a wide range of treatments and consultative care.
Our team may refer you for further investigations such as MRI and X-ray, which are available in-house, to help confirm a diagnosis if needed.
Our Physiotherapists have a wide range of skills which they use to treat the following conditions:
Sports injuries
Muscle strains
Back & Neck pain (referred pain including Sciatica)
Joint pain / injury (including Arthritic Conditions)
Ligament strains eg: Ankle & Knee injuries
Following Orthopaedic Surgery eg: Hip & Knee Replacement, Ligament Reconstruction, Shoulder, Back Surgery and many more conditions.
Work related injuries
Postural related pain
Repetitive strain injury eg: Tennis Elbow, Golfer's Elbow
Tendon pain eg: Achilles Plantar Fasciitis (heel pain)
Physiotherapy treatment programs include:
Sport Specific Rehabilitation & Injury Prevention
Individualised Exercise Routines
Soft Tissue Release Techniques
Joint Mobilisation & Manipulation
Electrotherapy
Acupuncture
Kinesio Taping
Pilates Exercise
Extra Corporeal Shockwave Therapy (for tendon problems)
Our Physiotherapists are Registered and Experienced in All Forms of Physiotherapy
All our Physiotherapists are registered with the Health Care Professions Council (HCPC) and the Chartered Society of Physiotherapy (CSP). The physiotherapists who practice acupuncture on our team are registered with the Acupuncture Association of Chartered Physiotherapists (AACP).
The team of Physiotherapists at the Kingsbridge North West Hospital follow evidence based practice and are always looking for new advances in treatments so that they can give their patients the best possible care at all times.
They have recently introduced Extra Corporeal Shockwave Therapy for the treatment of tendon problems. The treatment involves the application of pulses of energy to damaged tissues to initiate a healing response. The pulses (or shockwaves) are delivered via short bursts of compressed air exerted by the handpiece of the machine. Research has shown that this form of treatment helps to promote the growth of new tiny blood vessels by restarting the inflammation process in the treated areas. This is needed to promote healing and can also decrease pain in the area being treated.
Our Chartered Physiotherapists are happy to have an informed discussion with you regarding your condition and can advise you on the most appropriate treatment pathway.
Arrange Your Physiotherapy with Our Experts Today
We offer a physiotherapy clinic from Monday to Friday, and appointments are available in the early morning and evening for your convenience. We will start with a consultation to determine which treatment is most suitable for your condition. Our physiotherapists are on hand to discuss every aspect of your care and to answer any questions you may have before or during your treatment. We want you to be informed and at ease during every stage of your physiotherapy.
At the Kingsbridge Physiotherapy Clinic North West, we offer a wide range of physiotherapy treatments that deliver positive results for our patients. You can arrange an appointment, or call us to discuss your questions and concerns, if any. Whether you have received treatment elsewhere, or this is the first time you have sought treatment, we are here to help you feel better.
Kingsbridge Physiotherapy Clinic North West work in partnership with our Kingsbridge Physiotherapy & Sports Injury Clinic in Belfast based at Queen's PEC. You can find out more about their services and treatments available by clicking here.
If you would like to book an appointment or require further information to set up your consultation or for further information about Physiotherapy Clinic, please do not hesitate to contact our private patient booking team via our online enquiry form.

Alternatively,
;