New Partnership Launch With Netball Northern Ireland
25th, Apr 2023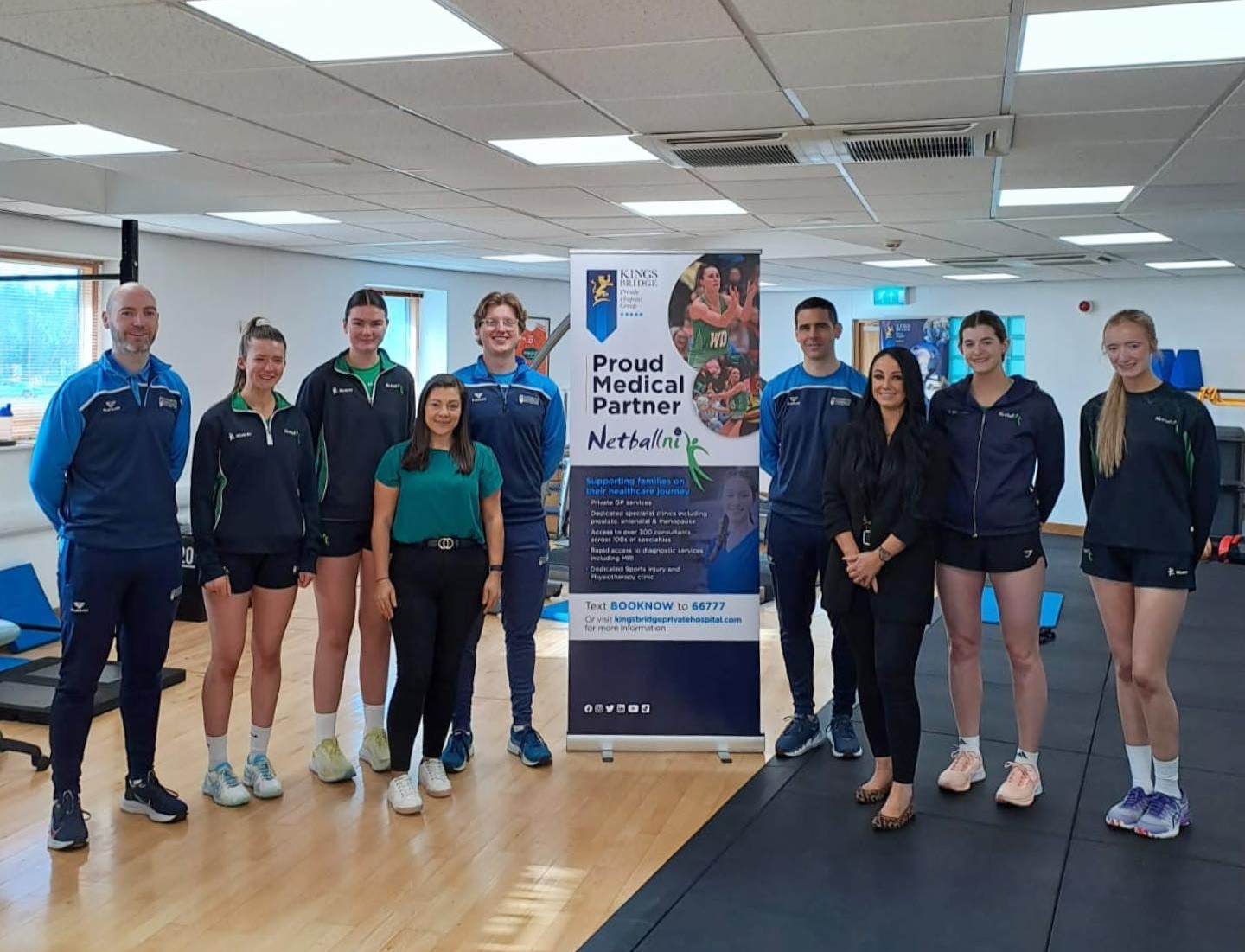 On Saturday 8th April 15 athletes from Netball Northern Ireland attended Kingsbridge Physiotherapy & Sports Injury Clinic located at Queen's PEC, Belfast for athlete profiling and strength testing sessions.
Using the highest quality equipment from VALD Performance the physiotherapy team were able to provide individually tailored results which showcased their strengths and areas of improvement to work on with their own strength and conditioning coaches.
"Athlete profiling is hugely beneficial in measuring an athlete's strengths and weaknesses, giving them a marker for various areas to work on and improve. Whether they are playing as part of a team or individually, our high quality VALD strength and power testing equipment can offer this. Our testing equipment includes Nordbord ,which measures hamstring concentric and eccentric strength and Forcedecks for power and maximum strength measures. We can also identify any significant asymmetries between both sides which can lead to an increase in injury risk. Here at Kingsbridge Physiotherapy Clinic we want to help athletes reach their full potential so they can play to the best of their ability. It was great to meet the Netball NI team and we look forward to collaborating with their coaching and performance staff in using this profiling data to help them achieve their injury risk reduction and performance goals.- Shea McAleer, Lead Physiotherapist, Kingsbridge Physiotherapy Clinic
"We were delighted to welcome athletes from Netball NI in for strength testing sessions at our dedicated sports physiotherapy clinic to launch our new partnership. Through these sessions each athlete received individual results which will support them as they train for upcoming competitions, however this is only the beginning! Alongside this we will be able to provide a range of services to Netball NI athletes and members from GP appointments to eye tests, health assessments and imaging (MRI, CT and X-Ray) at Kingsbridge Private Hospital.
We are extremely passionate about encouraging women and girls to be active and healthy in body and mind and our partnership with Netball NI aims to accommodate this. We look forward to supporting netballers across all playing abilities and providing advice and guidance around injury prevention, treatment and recovery." - Fiona Dowds, Head of Sales & Group Business Development, Kingsbridge Healthcare Group
"Netball NI are thrilled to be in a new partnership with Kingsbridge Private Hospital Group. The aim of this partnership is to support our elite athletes around education and practical advice for prevention of injury and in worst case scenario, fast track support for injury diagnosis and treatment. 
To launch our partnership, Kingsbridge provided testing for 15 NI athletes at their Physiotherapy and Sports Injury Clinic, in Queens PEC. The opportunity for our younger age group athletes to receive this level of testing from expert clinicians in a professional setting was extremely valuable and not only has this given them individual results and feedback on areas of strength and work on's but has provided incentive and inspiration to really understand the physical demands of being an athlete and the importance of technique when training.
The athletes thoroughly enjoyed the experience and have been full of enthusiasm and questions as to how they can maximise the information they've received. This comes at a perfect time for our U21 athletes as they are preparing for the European Championships in October, and they can make impactful changes in their training programmes." -Karen Rolo, Executive Manager of Netball Northern Ireland
Kingsbridge Healthcare Group are now proud medical partners of Netball Northern Ireland which will be a beneficial addition to their support system for athletes and members. For further information and to view a full range of services, treatments and healthcare specialists available at Kingsbridge Private Hospital Group, please visit kingsbridgeprivatehospital.com
---