Cransford Answers Your Private Health Insurance Questions
12th, Oct 2022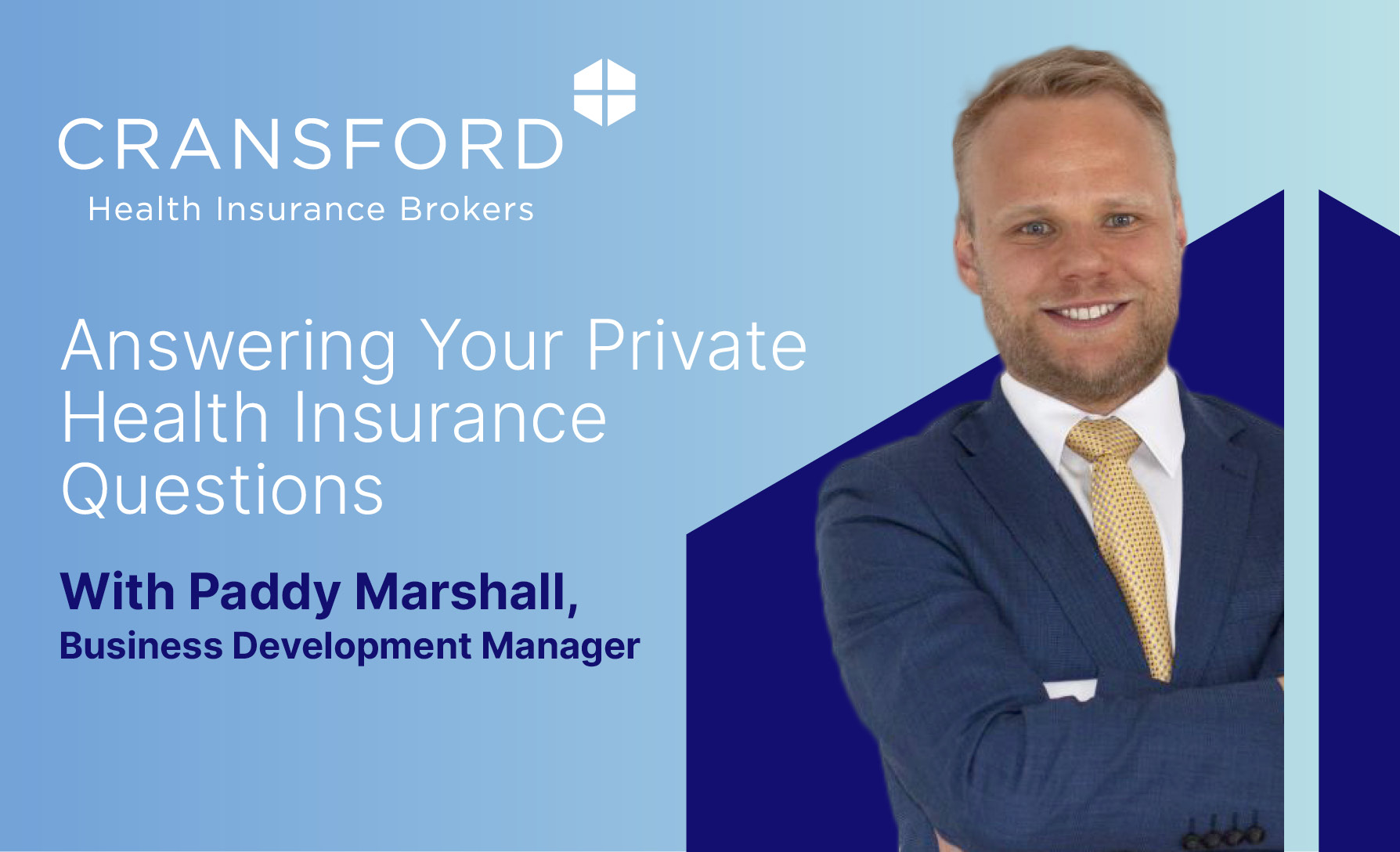 Interested in finding out how Private Health Insurance can support you, your family or your business? Paddy Marshall, Business Development Manager at Cransford Health Insurance Brokers answers your Health Insurance questions and offers his advice on how Cransford can help source the right cover for you!
What is Private Health Insurance?
Private Medical Insurance is designed to cover the cost of private medical treatment for 'acute' conditions that start after your policy begins. An acute condition is a short-term illness or injury that will respond to treatment and return you to the state of health you were in immediately before suffering the illness or injury.
In short, health insurance will cover the cost of the diagnosis and treatment of these acute conditions within a private health facility which is recognized by your insurance provider. In most cases, claims are paid by the insurance company directly to the facility.
Why Consider Private Medical Insurance?
In Northern Ireland and across the UK, our national health service is in crisis - not in the quality of care, but the length of time required to access it. Over 150,000 people are waiting for a diagnostic service in Northern Ireland alone, and almost 30% of those people are waiting more than 26 weeks.
A private health insurance policy allows you to access private services and facilities, with much short waiting times, if any at all. This of course helps to resolve issues more easily and quickly, hopefully before these become more serious. Within a company this sort of benefit helps to improve productivity and overall morale.
What are the benefits of working with Cransford as a specialist broker?
We have the experience and expertise of handling a huge range of health insurance policies and schemes on a continuous basis, working with a broad range of the leading providers including Bupa, AXA, Aviva, Vitality, H3 and Benenden.
Our advice and service are FREE of charge as we are paid on commission by the providers, with no impact on premiums paid by our clients. When insurance is bought directly from a provider you will receive no independent advice of the benefits that are most appropriate for you. As an independent broker we are regulated to represent the client's best interests.
In addition, Cransford works with a range of partners and sister companies to extend the benefits and services that our business clients can avail of. These include health screens, occupational health services and first aid training. Our key partner in all of this is the Kingsbridge Healthcare Group, which as Northern Ireland's largest private healthcare provider opens up a huge range of services and expertise which we can leverage to support and benefit our clients.
What kinds of cover does Cransford offer?
Cransford works with a broad range of providers to find the most appropriate cover for individuals, families, and businesses of all sizes.
For individuals we supply full insurance policies mainly provided by Aviva, AXA, Bupa, Vitality & H3. For businesses this range of insurance providers is more extensive, and we can also provide businesses schemes with Benenden and cash plan providers such as Health Shield which provide lower cost solutions to helping staff access limited cover for private care.
What's not covered?
Like any insurance policy there are generic policy exclusions. These can be found in the policy wording. The most common exclusions, however, will be pre-existing conditions and chronic conditions which have no recognised cured.
Regarding pre-existing conditions, clients can choose which form of underwriting to have applied to their policy to allow the insurance company to handle those conditions and apply exclusions accordingly. This can involve disclosing your medical history when applying to start the policy or allowing the insurance company to check your history when you're seeking to make a claim.
A policy's existing underwriting can be transferred with it when you change provider, so long as the members meet the relevant switch criteria. If the switch criteria are met, the new provider will not seek to add any new exclusions to the members' cover.
Depending on the size of company group schemes, the client can choose to pay an additional premium to have medical histories disregarded.
How can I reduce the cost of my health insurance?
There are several ways in which clients can reduce their health insurance premiums. These include, increasing the excess paid on the policy, reducing the outpatient benefit limit, and moving to a guided treatment pathway from an open hospital list. When Cransford performs a market review for every prospect & client we show how the scheme may be amended to reduce the premium or increase benefits.
In addition, reviewing the market on a regular basis during the yearly renewal period of a scheme is an important check on the competitiveness of your premium. Cransford performs this review free of charge and we lead our clients through the switch process when an alternative provider offers a better rate, or if appointed as your broker Cransford can use alternative quotes to help negotiate a discount with your current provider.
To find out more please visit www.cransford.com or contact us at enquiries@cransford.com or by calling 028 9073 5207
---